Building Trust and Tradition Since 1887
Interested in building a meaningful career with an innovative company committed to being an industry leader? Consider the possibility of becoming a Teichert employee. From support services to field positions to leadership, Teichert offers many opportunities for motivated individuals. At Teichert, you will find a stimulating environment offering training opportunities and growth potential you've been looking for in a career.
Teichert recognizes the advantages derived from a diverse workforce and prides itself on being an Equal Opportunity Minority/Female/LGBT/Individuals with Disabilities/Protected Veteran and Affirmative Action Employer.
Download our list of Frequently Asked Questions regarding Careers at Teichert.
Career Opportunities
Teichert's construction, materials, energy & utilities and support teams (including Safety, Information Services, Finance/Accounting, Human Resources, Industrial Relations, Risk Management, Mobile Equipment, and other professional services) offer competitive salaries and comprehensive benefits.
NOTICE TO ALL POTENTIAL JOB CANDIDATES: 
We have recently become aware of individuals, not associated with A. Teichert & Son, Inc. (or its subsidiary companies) ("Teichert"), who have been posting false openings on job-boards using the Teichert name, in an apparent attempt to defraud potential job candidates. Please be advised that all of Teichert's approved and current job postings can be validated by visiting our Careers page and clicking 'View & Apply Online' button above.
Opportunities in the Trades
Many of our most valued employees work in the field and are members of various labor unions. If you are interested in finding out more about union positions at Teichert, please contact one of the following organizations:
*As of January 1, 2016, in Northern California, the Teamsters do not have an apprenticeship program. They have "trainees" – (Section 4 Group 8 of the Master AGC Teamster Agreement)
Recruiting
Teichert's core values are Building (a team of highly engaged people), Trust (be ethical, honest, and straightforward in everything we do), and Tradition (take care of our customers so they prefer to do business with us). We are most interested in teaming up with career-minded individuals to build and transform infrastructures that enrich the quality of life for our communities. As a family-owned business, Teichert is vested in the success of our employees – personally and professionally. Teichert supports various career development opportunities – such as continued education, certificate course work, and on-the-job training. Teichert also encourages employee volunteerism through The Teichert Foundation.
Opportunities are vast at Teichert with careers in the fields of Civil Construction, Materials Management (aggregate and asphalt), Energy & Utilities (gas distribution, solar and water works) and various Support Services. We have offices and job sites in numerous locations including Northern, Central and Southern California, Northern Nevada, and the San Francisco Bay Area.
If a professional, innovative, career-oriented and team based environment is on your must-have list, join one of California's oldest and most respected companies. Find out why generations of family members have worked for Teichert. Please click here to view our current openings and start your journey to becoming a member of the Teichert family.

Active duty personnel undergoing pre-separation counseling or, Veterans of the U.S. Armed Services who acquired Military Occupational Specialties (MOS) in the Engineering and Construction areas are encouraged to apply for opportunities towards a Construction Career path with Teichert.
Below is a service-by-service list of those military occupational positions where we employ field personnel. Teichert Construction is a Union employer who works in collaboration with the Building Trades Unions with which we have labor agreements to employ armed forces Veterans.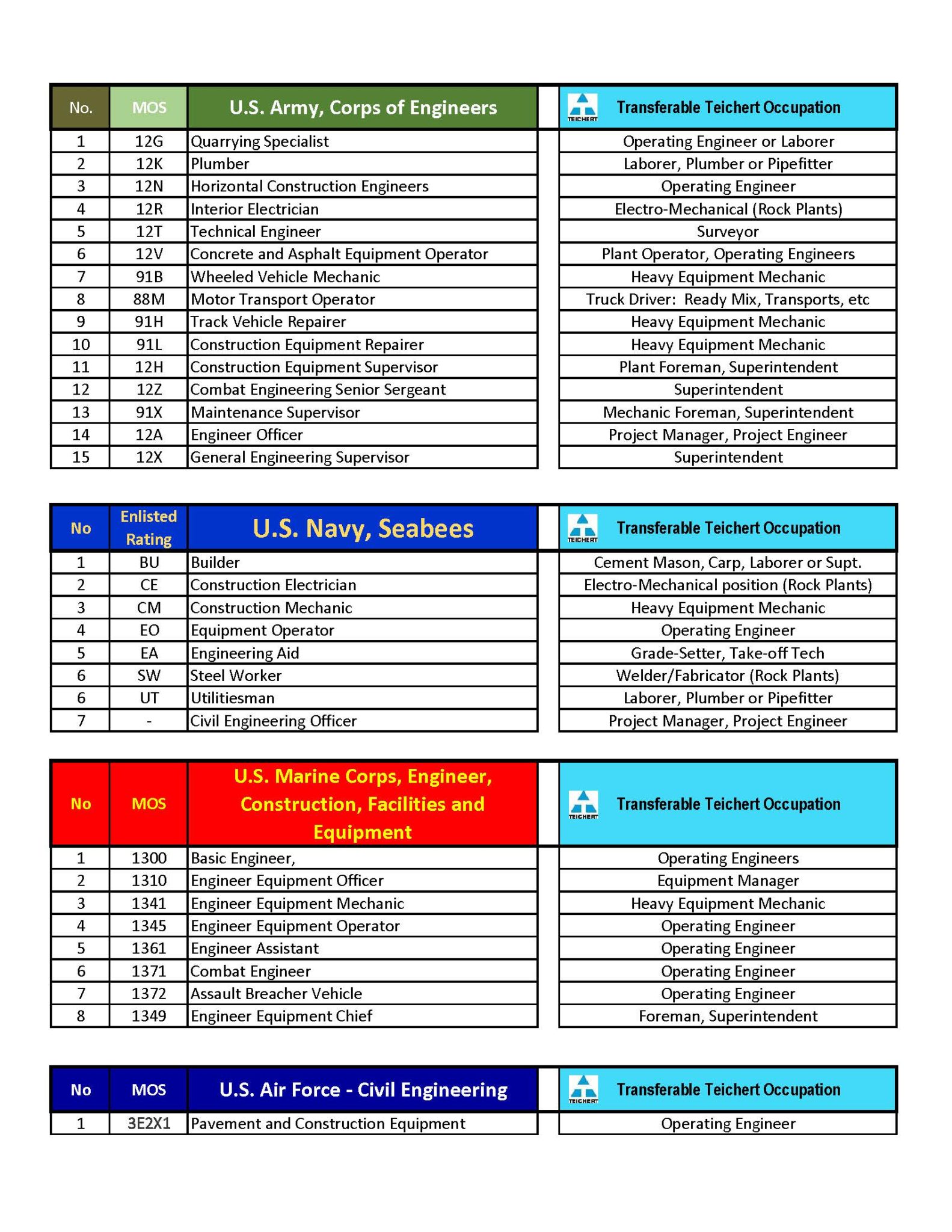 Armed Forces veterans with a MOS or rating other than that listed above and who are interested in a Craft construction career are encouraged to apply to one of the Construction Apprenticeship program listed herein.